[vc_row][vc_column width="1/4″][/vc_column][vc_column width="3/4″][vc_column_text]
Teaching Dance Like A World Class Pro
It only takes 2 things!
At Dance Ninjas, we believe there are two key ingredients to being a great teacher:
Improve Your Students


ff

Make Sure They Love Your Classes
fff
If you improve your students but they don't love your classes, eventually they'll probably go elsewhere (or worse, stop taking classes altogether).
If they love your classes but never improve, they might stick around a little longer but eventually, they'll probably go elsewhere.
BUT…
If you do these two things, your students will stick with you for the long haul and everyone else will want to know your secrets for creating such amazing dancers.
This might be easy to do in any one class…
But how do you accomplish this in every single class you teach?
The key to achieving both of these goals in every single class is to have lots of methods that improve your students and lots of methods to ensure they love your classes.
Here's a list of a few methods we love to use in classes: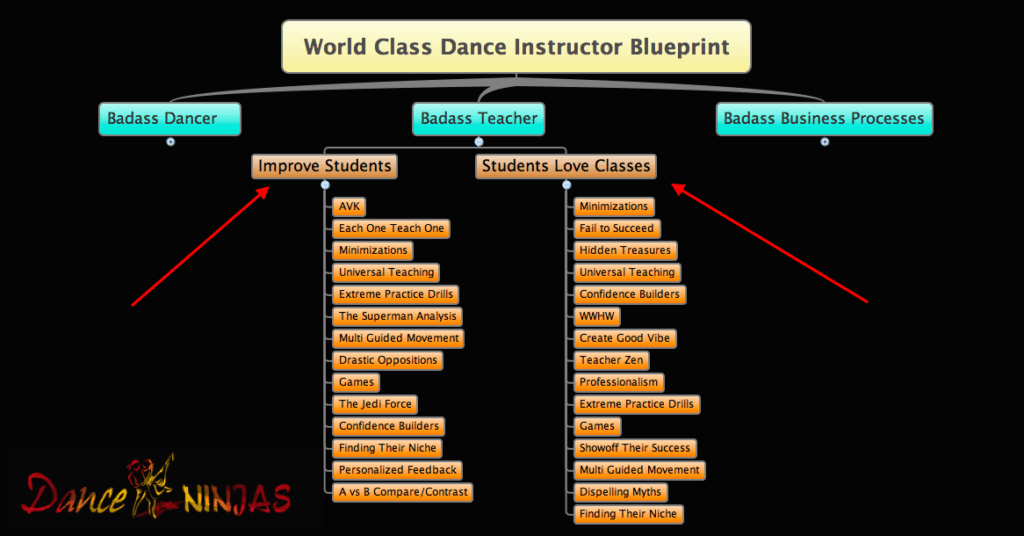 Example Methods To Improve Students & Get Them To Love Your Classes
How many methods do you have to improve your students?
How many do you have to make sure they love your classes?
You can start your dance career with just one of each (heck, many teachers start with none).
As your teaching evolves you want to create more and more, so you can keep things feeling interesting and fresh, all while constantly improving your students and making sure they love each and every single class.
If you don't have that many yet…
Don't worry, we've got you covered…
Introducing: Dance Ninjas Universal Teaching Methods
Note: Some methods improve your students, while others make sure they love your classes. Occasionally, a method will do both!
These articles outline methods we believe BOTH improve your students AND make sure they love your classes. Double Whammy!
We publish information like this all the time.  Join over 3,000 Dance Ninjas subscribers and get awesome content delivered directly to your email.
Like our free content? CLICK HERE for the best that Dance Ninjas has to offer…[/vc_column_text][/vc_column][/vc_row]